NEET 2023 Marks Vs Rank statistics can benefit students who want to know their expected rankings after the exam.While a complete score of 720 will get students ranked 1, scores lower than that will get them a lower rank. NEET ranks are determined based on the total number of exam candidates and their scores.
The most asked query of the candidates appearing for NEET 2023 is what rank will they get on a particular score. In order to help the students, Meducate has here provided the expected NEET marks vs ranks 2023 analysis. Aspirants can easily check the NEET marks vs ranks range from the article below.
NEET marks vs rank 2023 : Depending factors
andidates must note the derivation of data of NEET 2023 rank vs marks, that follows on the basis of previous year trends, i.e., 2022, 2021, 2020, 2019, 2018, 2017. Another important thing is that the data provided below is indicative and varies depending on factors like:
The difficulty level of the NEET question paper
Level of preparation of aspirants
Number of students appearing for NEET 2023
In scenarios where two or more candidates secure the same marks the tie-breaking criteria as set by the authorities will come into effect.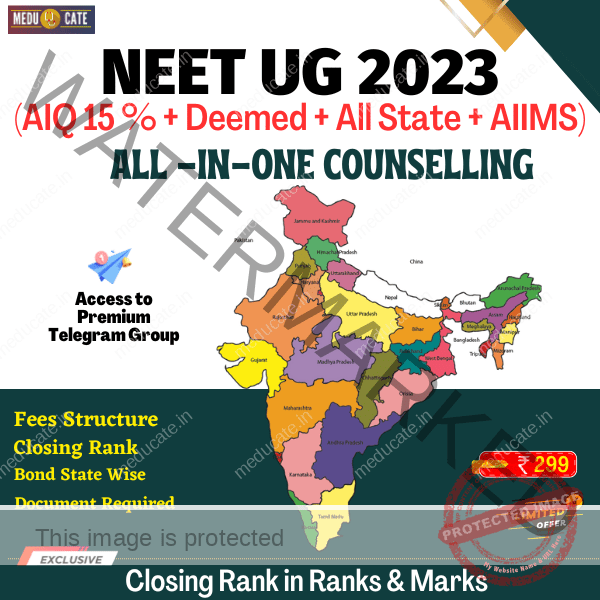 NEET marks vs rank 2023: Previous year analysis
Following are certain salient features of NEET marks vs rank that must be considered by candidates:
The highest marks secured by any candidate in NEET 2022 were 715 NEET 2021 was 720, NEET 2020 were 720, NEET 2019 were 701, NEET 2018 were 691 and for NEET 2017 were 697.
The qualifying score for unreserved category candidates in NEET 2022 was 117, NEET 2021 was 138. However, for NEET 2020, 2019, 2018, and 2017 it was 147, 134, 119, and 131 respectively.
An important fact to be considered is that as we go through the marks in decreasing order, the number of candidates securing those marks increases. For instance, the number of candidates securing 681-690 is 18, however, those securing 551-560 is 19967-23501
The last rank of candidates qualifying for NEET 2022, NEET 2021, NEET 2020, 2019, 2018, and 2017 is 1534697, 1545759, 1545759, 1374142, 634897, and 543473 respectively.
The opening rank of a marks range is given in continuation to the closing rank because there are a lot of candidates scoring the same marks.
NEET 2023 expected Marks vs Ranks
| | |
| --- | --- |
| NEET marks | NEET Ranks |
| 715 – 701 | 1 – 48 |
| 700 – 651 | 97 – 4245 |
| 650 – 601 | 4677 – 20568 |
| 600 – 551 | 21162 – 48400 |
| 550 – 451 | 49121 – 125742 |
| 450 – 401 | 126733 – 177959 |
| 400 – 351 | 179226 – 241657 |
| 350 – 301 | 243139 – 320666 |
| 300 – 251 | 322702 – 417675 |
| 250 – 201 | 420134 – 540747 |
| 200 – 151 | 544093 – 710276 |
| 150 – 101 | 715384 – 990231 |
| 100 – 51 | 1001694 – 1460741 |
| 50 – 0 | 1476066 – 1750199 |
NEET 2022 Marks vs Ranks
| | |
| --- | --- |
| NEET Marks | NEET Ranks |
| 720 – 715 | 1 – 19 |
| 710 – 700 | 23 – 202 |
| 698 – 690 | 204 – 512 |
| 688 – 680 | 522 – 971 |
| 679 – 670 | 992 – 1701 |
| 669 – 660 | 1702 – 2751 |
| 659 – 650 | 2759 – 4163 |
| 649 – 640 | 4170 – 6061 |
| 639 – 630 | 6065 – 8522 |
| 629 – 620 | 8535 – 11463 |
| 619 – 610 | 11464 – 15057 |
| 609 – 600 | 15070 – 19136 |
| 599 – 590 | 19141 – 23731 |
| 589 – 580 | 23733 – 28745 |
| 579 – 570 | 28752 – 34261 |
| 569 – 560 | 34269 – 40257 |
| 559 – 550 | 40262 – 46747 |
| 549 – 540 | 46754 – 53539 |
| 539 – 530 | 53546 – 60853 |
| 529 – 520 | 60855 – 68444 |
| 519 – 510 | 68448 – 76497 |
| 509 – 500 | 76500 – 85025 |
| 499 – 490 | 85032 – 93986 |
| 489- 480 | 93996 – 103350 |
| 479 – 470 | 103369 – 113223 |
| 469 – 460 | 113233 – 123338 |
| 459 – 450 | 123346 – 133916 |
| 449 – 440 | 133919 – 144909 |
| 439 – 430 | 144916 – 156179 |
| 429 – 420 | 156204 – 168034 |
| 419 – 410 | 168039 – 180302 |
| 409 – 400 | 180312 – 193032 |
| 399 – 390 | 193048 – 206241 |
| 389 – 380 | 206257 – 219764 |
| 379 – 370 | 219770 – 233843 |
| 369 – 360 | 233864 – 248477 |
| 359 – 350 | 248480 – 263339 |
| 349 – 340 | 263357 – 278814 |
| 339 – 330 | 278863 – 294772 |
| 329 – 320 | 294808 – 311293 |
| 319 – 310 | 311297 – 328377 |
| 309 – 300 | 328386 – 345954 |
| 299 – 290 | 345964 – 363964 |
| 289 – 280 | 363970 – 382695 |
| 279 – 270 | 382711 – 402154 |
| 269 – 260 | 402189 – 422163 |
| 259 – 250 | 422166 – 442631 |
| 249 – 240 | 442639 – 464126 |
| 239 – 230 | 464135 – 486718 |
| 229 – 220 | 486731 – 510131 |
| 219 – 210 | 510168 – 535169 |
| 209 – 200 | 535197 – 560995 |
| 199 – 190 | 561027 – 588519 |
| 189 – 180 | 588561 – 618096 |
| 179 – 170 | 618132 – 650040 |
| 169 – 160 | 650046 – 684698 |
| 159 – 150 | 684720 – 721833 |
| 149 – 140 | 721838 – 762989 |
| 139 – 130 | 763007 – 808249 |
| 129 – 120 | 808278 – 858455 |
| 119 – 110 | 858461 – 914407 |
| 109 – 100 | 914411 – 975925 |
| 99 – 90 | 975975 – 1044070 |
| 89 – 80 | 1044096 – 1116998 |
| 79 – 70 | 1117041 – 1193433 |
| 69 – 60 | 1193511 – 1269683 |
| 59 – 50 | 1269709 – 1342259 |
| 49 – 40 | 1342317 – 1405936 |
| 39 – 30 | 1406059 – 1457867 |
| 29 – 20 | 1457902 – 1495726 |
| 19 – 10 | 1495842 – 1520740 |
| 9 – 0 | 1520799 – 1534697 |
NEET 2023 Marks Vs Rank NEET 2023 Marks Vs Rank NEET 2023 Marks Vs Rank NEET 2023 Marks Vs Rank NEET 2023 Marks Vs Rank NEET 2023 Marks Vs Rank NEET 2023 Marks Vs Rank NEET 2023 Marks Vs Rank