Your Search Towards Medical Counselling Ends Here 
India's

#1

Live Medical
Counselling Portal
NEET PG | NEET UG |NEET SS | INCET 
Trusted By 5M+ Users
WELCOME TO
MEDICAL COUNSELLING
Get the MEDUCATE'S Advantage
NEET PG Personalized Student Report- MEDUCATE'S Advantage
Confused About Which College you Get ? Fees, Bond, Stipend of that College! In which round you Will Get ? What are the Possibilities ? In which round which counselling you have to apply ? 
Get all the Personalized details made by Team Meducate Just for you in Rs 349/-
Estimated Time
Personalized Student Report Delivered to you within 48hrs.
Get the MEDUCATE'S Counselling Services
 

MEDUCATE'S

High Selling Product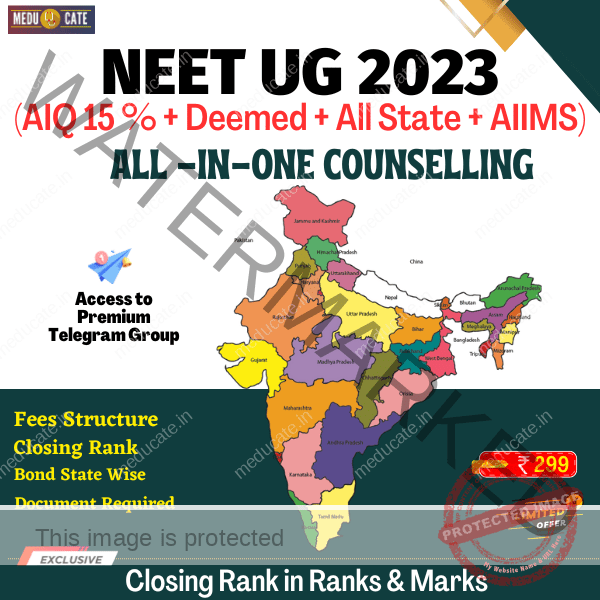 NEET UG 2023 E-BOOK
Complete List of Cut-off & Fees of All MBBS College
NEET PG OPEN STATE
Complete List of Closing Rank and Fess of all Open State
Meducate Premium
Access Counselling Portal and Personalized Student Report
Counselling Portal
Access Fees, Cut-off, Bond & Stipend, Clinical Details etc.
Coz we have a purpose, and we need revolution.
Un CUT
Entire Scope of Counseling : Eligibility, Applications, Processes & Rules, Seats, Fees, Bonds, Choices, Legal Regulations and every into that helps.
Instant Update
Continuous & instant updates on all notifications, events, announcements, and deadlines of every Counseling - All at one place.
Shortlist Your College
Personalized report for list of best possible branch & colleges based on expected NEET PG Score
KYC-BYC
College Ranking Reviews Health Report Bonds | Stipend - Know Your College Before You Choose
Reliable & Cost Efficient
Personalized Counselling  Guidance Start from Rs. 3999/-  with Satisfaction Guarantee
Complete Tracking & Monitoring
At Meducate, we handhold you throughout the entire NEET PG Counselling process , till you get admission in your desired medical college